MakeSpace MakeSpace is a full-service storage company designed to take the pain out of going back and forth from a self-storage facility. Make an online reservation to have a MakeSpace team member drop off durable, commercial-grade plastic storage bins. Once packed and picked up, photo inventory is taken, and your bins are stored in a secure facility. Need something back? Simply log into your account and schedule a delivery.
Animation & Costume Design
Created fun gifs using photography

(See the monster box EAT ME)

. Designed a costume for Ruby

(see above) 

and patches for drivers and warehouse staff.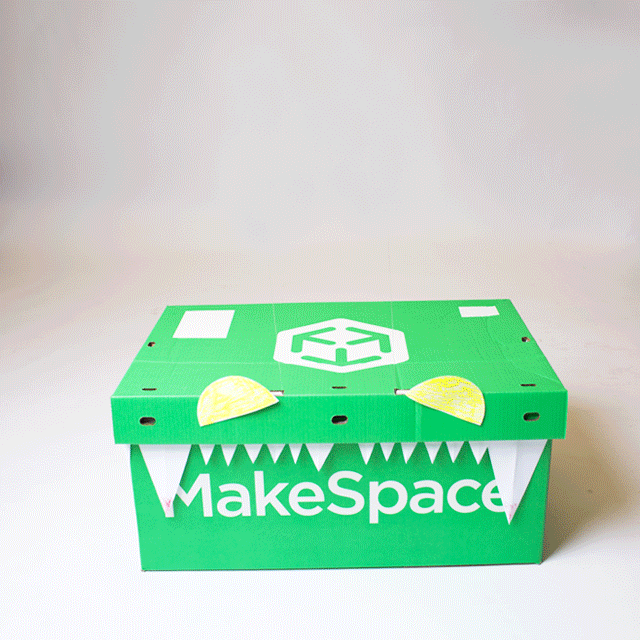 Tasked with designing the original box dimensions and ratios. Below are a number of wireframe options I devised before moving on to the final visuals. Concepted and developed the welcome booklet that is delivered with each box/bin. The most prevalent point was aimed to make the process feel as effortless as not having to schlep to a storage facility.
Designed the FAQ / Guarantee page we aimed to deliver a clean design with clarity while delivering all the required information. In designing the confirmation email I maintained a simple and clean brand identity. Redesigned the review section of the landing page to tie in the eye-catching narrative that we were developing on our social accounts.
As part of the Marketing team, we created clever narrative and eye-catching imagery by taking part in the shoots to develop workflow and asset guidelines that reinforced the narrative at the time while creating consistency. Worked towards providing continuity for users with brand recognition in marketing copy and assets. Created postcards for Affiliate promos. Developed PR Material, Business Cards, Thank You Cards, Gift Cards, and edited photos for marketing materials and direct mailers.